Tools and Certifications
For recruitment and assessment missions, our consultants are certified on tools recognised for their quality and relevance.

With our in-depth knowledge of your business sectors and our diagnostic and analysis skills, we can select the right tool to help you complete your projects.

Check out our Tools and Certifications.
PerformanSe



This tool helps you assess individual resources of a person and their behavioural dynamics, mainly by studying their personality traits, motivations and values. The results are broken down into six main themes (first impressions, activity, sociability, relationship with line management, reaction to stress, work environment). It also highlights select strengths and weaknesses.

Eric BOTHIER — Manika MEY — Ghislaine VIDARD
MBTI



The MBTI is the most well-known and widely used personality tool in the world. The MBTI profile reveals how an individual perceives the world and interacts with it, providing a snapshot of their motivations and the motivations of others. This analysis provides a solid base for personal progress and development, leading to greater individual efficiency.

Eric BOTHIER
mypandoratest®



Based on neuroscience research, mypandoratest® is the first High Definition personality test, meaning it is a multi-factor, non-binary test. It lets you understand interactions between how a person or a group thinks. Its main applications are: hiring for key positions, internal mobility, manager support, development of collective intelligence and agility, innovation and complex problem-solving, facilitating communication, eliminating silos and resolving conflicts.

Frédéric CHOMEL
DISC (Dominance Influence Stability Conformity)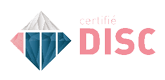 How do we act? This assessment method aims to decode our behaviours, interactions and our ways of reacting to others. The only thing the matters is how we act and the consequences of our behaviour. In human resources recruitment, using this tool supports the recruiter/applicant compatibility assessment and employee integration in the company. In individual or collective assessments, this tool can help resolve individual and collective communication issues as well as team-building problems.

Catherine GRANGE
WPMOT (Workplace Motivators)



What motivates an individual? This tool sheds light on what an individual considers important in their work environment and highlights their motivators. It is a valuable tool for recruitment as well as for individual and team assessments, as it reveals the various motivating factors and helps you understand the priorities that an individual has set for themselves.

Catherine GRANGE
Talent Insights




Associating behavioural assessment tools (DISC) and motivating factors (WPMOT). This tool provides information on both behaviours and motivations, letting you better understand how an individual gets their energy and what work environments allow them to blossom.

Catherine GRANGE
AGILE PROFILE® INVENTORY (API) and AGILE PROFILE® DEVELOPMENT (APD)




With equal expertise and different personalities, two individuals can fail or demonstrate much added value in the same job. What makes the difference is the way in which one approaches a context. This is what we call taking action.

1 / THE AGILE PROFILE® INVENTORY identifies natural tendencies to act together, identified from a level of activating agile postures in adaptive (autonomy and flexibility) and regulated (stability and formalization) mode.
This tool identifies a person's collective action structure and how they like to take action, providing useful information on their ability to integrate a given job or company.
2 / AGILE PROFILE® DEVELOPMENT makes individuals and teams aware of their ability to implement the three fundamental postures of agility under pressure: anticipation, co-operation and innovation.
This tool is used to identify an individual or a team's collective action structure, related to a specific context.